About Composite Decking Fasteners
Our decking boards are designed for quick and easy installation with a hidden fastener system to ensure a seamless, aesthetically pleasing finish. A cleaner, tidier and more convenient fixing system than traditional timber screws, our composite decking fasteners save time and money, speeding up installations while ensuring a strong and secure fix using nothing but standard tools.
Our Decking Fasteners
Creating a pristine, professional looking finish to your deck, our composite decking fasteners attach to the sides of your composite decking boards, holding them firmly in place while remaining hidden from sight.

Choose from our standard plastic 6mm or premium zinc coated stainless steel 3mm Composite Decking Fasteners, each of which allow fast and accurate placement and fixing, and create consistent spaces between each deck board to achieve a reliably uniform pattern. Add Starter Fasteners to your project for quick and easily alignment and support for your first and last deck boards.

Strong and durable, our hidden fasteners' concealed placement makes them safe for use on deck areas used by pets, children or anyone with bare feet, and the high quality weatherproof materials ensure strength, reliability and longevity.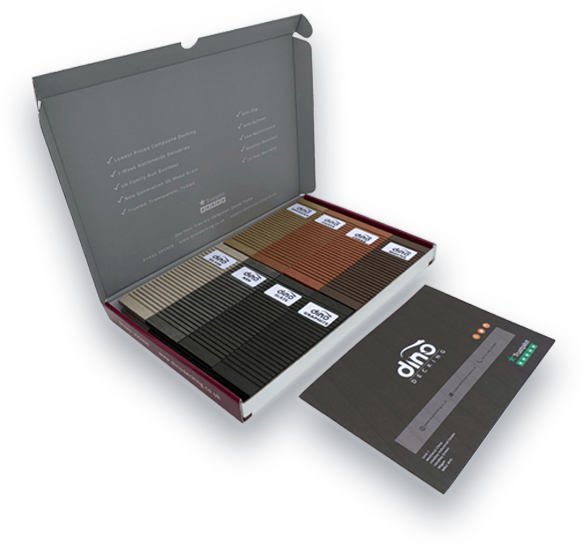 FREE Sample Pack
See our range of modern and natural colours and beautiful composite decking board texture designs up close with a Free Sample Pack.

Taking the guesswork out of planning your deck and allowing you to find the perfect colour scheme to complement and enhance your outdoor space, a small cut of reversible composite decking board is supplied in each of our 9 colour options, all with a non-slip grooved side and classic wood textured side for you to compare.
Delivered directly through your letterbox by Royal Mail in just a couple of days, the no obligation sample composite decking pack comes with a copy of our latest brochure and current pricing.
GET FREE